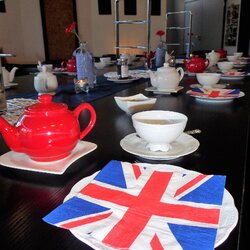 Cooking Class "Afternoon Tea (2)" (in English)
35.00€ inkl. 16% MwST
zzgl. Versandkostenpauschale € 1,50 (inkl. MwSt.) pro Bestellung
Datum: 3. 11. 2019
Ausverkauft
Cooking Class in English: "Afternoon Tea 2"
- NEW RECIPES ! -
Do you wish to learn something about the tradition of British afternoon tea in a fun and relaxed atmosphere? Then we invite you to a unique culinary experience: a cooking class in English! Enjoy a typical British afternoon tea and improve your English communication skills at the same time.
Afternoon Tea is unmistakably a truly British custom now known worldwide but with its origins in 19th century England. So, what could be more comforting than spending a Sunday afternoon with a cup of tea and some delicious treats? Attend our "Afternoon Tea" cooking class and learn how to prepare the perfect afternoon tea to share with your friends and family. On top of that, this class is a perfect opportunity to improve your language skills because all recipes and instructions are given in English and we only speak English.
What the afternoon involves:
a glass of sherry on arrival
all ingredients
tea / coffee
talks, demonstrations, step-by-step guides and plenty of hands-on cooking
a recipe booklet of the dishes prepared
What a wonderful combination: Listen to English, speak English and create a delicious British afternoon tea. Our savoury recipes include homemade scones, lovely little cakes and a selection of dainty sandwiches. After the class you will have time to enjoy everything you have made in our dining area with a cup of tea.
Your tutor:
Silke Rische is an interpreter, translator and language trainer. After ten years in industry and commerce, she set up her own business in 2000 and has been working as a Business English trainer for numerous companies and private students since then. Based on her experience in language training, adult education and her passion for cooking and good food, she will walk you through each of the recipes, giving you the confidence to make something really special and the skills you need to make everything again at home.
Date: Sunday, 3 November 2019
Time: 2:00 p.m. to 5:00 p.m.
Price: € 35.00 per person (all incl.)
Participants: min. 6, max. 10