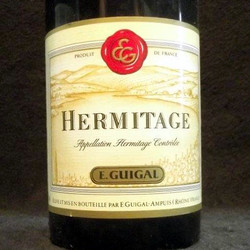 1988 E.Guigal Hermitage
65.00€ inkl. 19% MwST
Price per bottle (0,75 l), Basic price € 86.67 / 1 l incl. VAT
Dieses Produkt kann nur vor Ort abgeholt werden
E. Guigal Hermitage 1988
Brand/Producer: E. Guigal Ampuis
Appellation: Hermitage
Country / Region: France / Rhône
Vintage: 1988
Capsule: Firm and intact
Label: Full and clean
Bottle: 750 ml
Sales designation: Red wine
DESCRIPTION:
91 points Robert Parker: "The 1988 is Guigal's best red Hermitage since the 1983. More concentrated than either the 1989 or 1990, it exhibits an opaque, dark ruby/purple color, and a huge, relatively undeveloped but promising perfume of cassis and minerals. In the mouth there is sensational concentration, dramatic flavors that are still in their infancy, and plenty of robust tannins in the impressively long finish." (Rhone Book, 1997)
According to the Wine Spectator: "Ripe and generous, with a strong gamy quality that sneaks in on the finish. A style not everyone will love, but has intensity and balance. Drink now." (12/91)
Price per bottle (0.75 l): € 65.00 incl. VAT
(Basic price: € 86.67 / 1 litre incl. VAT)
ORDER / SALES:
If you are interested in this wine and would like to place an order, please contact us either by phone ++49 (0)2761 979163 or by email info@risches.de. Pick-up service at rische's, Drolshagen / Germany only according to prior arrangement.
WARNING:
This product contains alcohol and may not be sold to people under the minimum legal age.